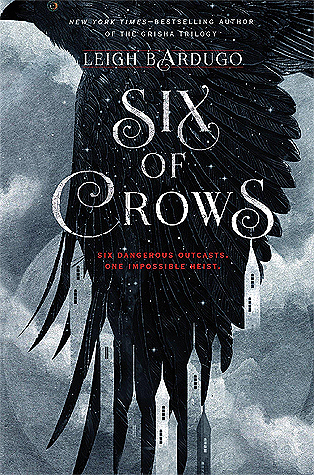 Author:
Leigh Bardugo
Published by:
Henry Holt & Company
on 29th September 2015
Genres:
Young Adult, Fantasy, Magic, Romance
Pages:
465
Format:
Hardback
Series:
The Dregs #1
Source:
Bought
Links:
Goodreads
|
Wordery
|
Hive
|
Kindle
Summary:
Ketterdam: a bustling hub of international trade where anything can be had for the right price—and no one knows that better than criminal prodigy Kaz Brekker. Kaz is offered a chance at a deadly heist that could make him rich beyond his wildest dreams. But he can't pull it off alone...
A convict with a thirst for revenge
A sharpshooter who can't walk away from a wager
A runaway with a privileged past
A spy known as the Wraith
A Heartrender using her magic to survive the slums
A thief with a gift for unlikely escapes
Kaz's crew are the only ones who might stand between the world and destruction—if they don't kill each other first.
It's a heist novel, they said. You'll love it, they said.
And they were correct in every sense.
Also, why it took me over a year to finally get around to reading it, is beyond me. But in a sense, I'm glad because it meant no agonising waiting for the sequel and I could marathon through the duology with no regrets. Needless to say, I was fired up.
Like seriously, buzzing in my seat like a rocket ready to take off, kinda fired up
. I raced through Bardugo's
Grisha
trilogy the previous year - again, I marathoned the lot. It was also my second attempt having failed to have been hooked by
Shadow & Bone
first time around - and Sankta Alina, I enjoyed it a whole lot that second time around. The immense world building and magical words Bardugo stringed together was everything I yearn for and desire in a YA Fantasy. I adored the Grisha series, I really did. The Darkling and Nikolai shall forever be emblazoned on my heart forevermore.

So when I discovered that Leigh would be writing a duology set in the same universe, I could barely contain my excitement. I was ready for more Grishaverse. Ready to be destroyed in every way possible. Six of Crows did not disappoint. It was the perfect build up, dramatic, clever and incredibly engrossing.
The cast of characters, the diversity, it was the most exquisite piece I had read in such a while and the most appeasing.
I lapped up every single word. And that was it. It was just the beginning and I knew the sequel would have a lot to live up to. I had been in a lazy mood for weeks, especially when it comes to reading. I felt like I lost that special spark whilst reading that got me so sucked into the book that I completely lost track of time. That feeling disappeared for a while despite the numerous exciting new releases I had at my feet. Truthfully, I was terrified that I may slowly be growing out of YA or reading in general. But
no
.
It was just a matter of waiting for the right book. And that book was Six of Crows. It made me fall in love with reading and Fantasy all over again. I felt like a kid that just discovered that their favourite sweet has been made into an ice cream. It's a weird image but seriously, I was that kinda kid. I fell in love with the expanded Grisha world, the carefully flawed yet flawless characters, damaged and complex, fleshed out and realistic. I loved them to pieces. My beloved Kaz Brekker. He deserves all the happiness in the world.
The heist part - can I just ask, is Leigh some sort of immortal Queen of writing the most incredible and clever storylines?! The twists, the ploys, the deviousness!!! Saints, I was mind blown by how deftly the story was crafted, the Dregs crew working together and hatching brilliant plans. It was truly wonderful. A delight. Let me be a Dreg. Where do I sign?
Again, it was just the beginning. The best beginning I've read in a long while but undoubtedly a long term favourite. For that roller coaster experience and heartstopping feels that will drive you insane, this is perfect for you. For any reader.
No mourners. No funerals.
Rating:
Silver Wreath