Yesirrreeee.
It's finally time for me to shine. Well, not really. I'm here to spotlight a rather fabulous book I read recently and that I think you should all pick up too. Because
AUTUMN
is finally here! Or
Fall
- which I strongly prefer these days. Because leaves
fall
, y'know? And that's Autumn in a nutshell. That and pumpkin spiced flavoured stuff.
Look at me rambling.
I first met the lovely
Beth Garrod
on my BIRTHDAY. At the Scholastic Blogger's Feast. (ON MY BIRTHDAY. SERIOUSLY. BEST BIRTHDAY EVER.) So I was totally going to join in on the
#SuperAwkward
blog tour so I can talk about Beth's brilliant book. She's so cool, despite the title of her debut. I think she's pretty great.
Let's get onto my review so you can hear me rambling some more. Hopefully I wasn't too awkward... (I had to throw that in there.)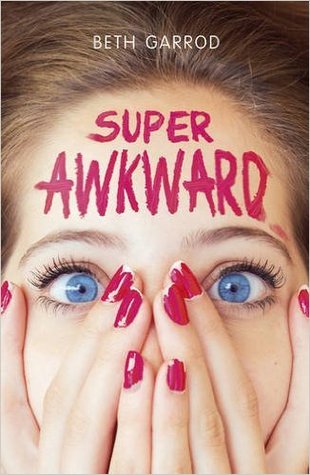 Genres: Young Adult, Contemporary, Romance, Awkward
Pages: 405
Format: Paperback
Source: Publisher
I, Bella Fisher, am absolutely WINNING at FAILING at life.
1. I once got my tongue stuck to a box of Calippos in a supermarket.
2. I accidentally called my geography teacher Mum. Twice. He wasn't impressed.
3. I'm a geek. And not in a geek-chic kind of way, but in a secretly-caring-about-failing-maths-and-science way.
4. I always fail maths and science.
So it figures that when I meet the FITTEST BOY IN THE WORLD, Zac, I'm doing solo star jumps. While dressed as a cereal box.
(NOTE TO SELF, fancy dress = HE-WILL-NEVER-EVER-FANCY-ME dress.)
Now I've got to somehow persuade Zac to come to prom with me while avoiding my evil ex and dealing with a secret so mega-awks I want to Ctrl-Z my brain... What could go wrong?
Oh yeah, that's right. Absolutely everything.
So this was me at the end.
Beth Garrod quite possibly has written one of the most accurate and entertaining stories of the year. Quite possibly one of my favourites! Quite possibly - the most relatable when it comes to awkwardness. Because believe it or not, I'm hella socially awkward. All kinds of awkward. I'm the type of person who mistakenly pours salt into their coffee instead of sugar.
(Spoiler: it's pretty gross.)
I've been suffering flu-ish hell as of late so reading
Super Awkward
was probably the best decision I had ever made. This book brought smiles to my face, it made me root for Bella Fisher, whom, despite her poor decisions at times, was perhaps one of the greatest and realistic characters I have ever read about. She is the inner child inside all adults. Not even joking. We've all got a Bella Fisher trait. I absolutely loved her! It's truly a shining element. Just following her mad adventures, her fangirling and awkwardness is enough to make any reader love her!
Super Awkward
is one of the most entertaining stories out there that can easily tackle dreadful slumps, hangovers and even the flu. (Speaking from experience.) Filled with fifty kinds of emotion - humour, fluttery butterfly gleeful feelings because FLUFF - all kinds of fun really. It's a heartwarming and light read, super quick and 100 percent enjoyable! I dare you not to love this book. I loved the characters, especially the favourite trio Bella, Rach and Tegan! I see so little of friendships being the spotlight in contemporary novels so it was great to see that the drama between the three friends and how they tackled the conflict wasn't a
side-story plot.
If that makes sense.
(I'm Castiel in this GIF.)
Honestly, this is the perfect read for any time of day, month, season, year but in this case - totally perfect to kick start the
Fall
season (yes, I used the US term because I can). If you ever find yourself in a foul mood or in need of a humourous and light read - Super Awkward is your go-to! The writing is brilliant and fluid, so enjoyable! I promise it'll bring you smiles. A truly wonderful and outstanding debut!
Also, we totally need a book two. Because I need Mr MIAGTM scenes and fluff. And more Luke doucheyness. More Bella Fisher awkwardness please. I can compare this book to the
Faith
series by Candy Harper which I ADORE.
Get out there and read this book guys.
Silver Wreath