Inferno is almost upon us!
Catherine Doyle fans can rejoice together as our superstar contemporary writer will be releasing not one, but

four exclusive short stories

told from the points-of-view of character's from her debut novel

Vendetta

. As a die-hard Blood for Blood fan, I've been kindly asked to host a very special giveaway as well as bring you links to Cat's bonus stories as we gain closer to the publication of her sequel -

Inferno

!

(And it's freaking amazing too.)
So I gathered up my wits and decided to bring you a blog post with a slight
Blood for Blood
touch. This may appeal greatly to those who have already read
Vendetta
, but consider them as great recommendations for those who haven't! Who knows, perhaps there's a book on the list you have read and if so, there's no excuse for you not to pick up Vendetta!
I have 5 YA recommendations for you that each share a similar trait to the Blood for Blood books!
So without further ado, here we go! If you loved Vendetta, you'll love...
#1 - THE SIN EATER'S DAUGHTER by Melinda Salisbury
The electrifying and butterflies-in-the-stomach swoony romance is something both of these books share. With an addictive style of writing and build-up of chemistry between characters, both books would never fail to ensnare your heart and drive you insane with feels and emotions. With love interests that are ready to sweep you off your feet, romances that will have you confused, excited and rooting your favourite ships on, they share a beautiful trait and both books deserve to be read and loved!
#2 - BANISHED by Liz de Jager
One thing I absolutely adored about Vendetta, was the ever-charming and sarcastic main character - Sophie. The
characters
, all flawless and somehow snake their way into your heart were definitely a winning point. Quirky memorable characters are always a win, which is why I'm suggesting readers to pick up
Banished
! An urban-fantasy set in modern era about fae mythology is sure to capture your hearts and get that adrenaline pumping. With a witty, charming female protagonist, Kit is like Sophie in many ways, both with a huge task set out for them and obstacles to face yet they find the time to shower humour and entertainment on the reader. Both books share that similar trait of flawless and unforgettable characters who you will easily grow to love!
#3 - NIGHT SCHOOL by C.J. Daugherty
Goodreads Link:
Here
Trait:
INTENSE ACTION AND PLOT
Who saw this recommendation coming? I can be so predictable sometimes. But in all fairness, the Night School series was the perfect comparison to match the non-stop-action and dramatic plot twists that Vendetta holds. Both of these books share that top spot in my favourite books of all time. The twisty, remarkable plots of both stories are engaging, addictive and equally breathtaking. It's impossible to put them down. They're intense, dark and realistic in ways that is insane to believe these are works of fiction. Fantastically written plot twists that readers would not see coming. They would send your hearts aflutter in one moment, and the next your feels will plummet and come crashing down in disaster. Get your hearts racing and blood pumping with these two adrenaline-filled series!
#4 - THE BOOK OF BROKEN HEARTS by Sarah Ockler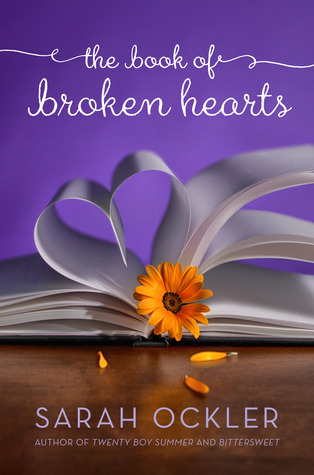 Goodreads Link:
Here
Trait:
FAMILY-MC RELATIONSHIPS
Now, a lot of the time most YA novels feature the main character having a deceased family member that affects them in some way. Or in most cases, deceased parent(s), or if they have parents at all, they barely make an appearance or magically disappear from the story. I tried to keep this list UKYA but I think this particular book deserves the spotlight. My first impressions were that this book had a similar
feel
to Vendetta. Both having a sarcastic and courageous female main character, both books include a family of swoony brothers who are bad news. But what grabbed at me most were the relationships the MC had with her parents.
The Book of Broken Hearts
focuses on the MC's journey as she tries to deal with her relatively young father having early Alzheimer's. It's incredibly heart breaking. But the bond between parent/daughter was strong and warmed me to the bone and this is also highlighted in Vendetta between Sophie and her parents, especially her mother. Both stories aren't afraid to show the importance of relationships between the MC and family members because they are a part of the story too! This is definitely something I wish to see more of in YA.
#5 - TROUBLE by Non Pratt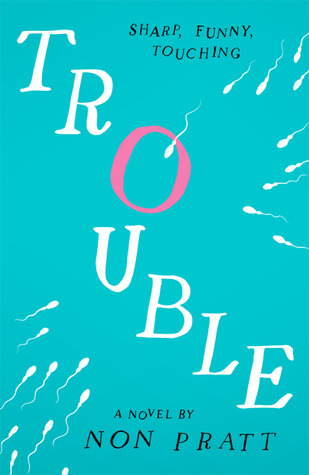 Goodreads Link:

Here

Trait:

FRIENDSHIPS & HUMOUR

This is, undeniably, one of the best books I have ever read. I own like,

four

copies of this book. It's right up there with some of the greatest YA contemporaries ever written. And what's incredibly special about it is the platonic friendship between main character's

Hannah

and

Aaron

. Both equally forced into a tough predicament but somehow battle through it with the help of one another. Like

Millie

and

Sophie

, in Vendetta, who share one of the greatest friendships I have ever read about, Hannah and Aaron compliment each other that win the hearts of many readers, including myself! Both pairs have a distinct friendship that we all crave to have and it makes the book that much more realistic, relatable and enjoyable! Not to mention the humour and entertainment factor in both books are a bonus! Both stories have a darker story to tell but there is still room to include light, awkward banter that warms our hearts and it's perfect!

There you have it! Five books I'd recommend if you loved Vendetta, and if you loved any of these books, then definitely check out Vendetta if you haven't already!

You can catch the next bonus short story titled

The Girl in the Dark

(

Told from

Nic's POV

)

here on Cat's website

catherinedoylebooks.com

!

The next blog post will be featured on

Dark Readers

blog.

Find my reviews of both

Vendetta

and upcoming sequel,

Inferno

here:

Vendetta Review Inferno Review

BUT WAIT, THERE'S MORE!

The wonderful people at

Chicken House

are providing me a bundle including a copy of

Vendetta

and an early copy of

Inferno

to give away to one special reader! Enter using the rafflecopter system below!

Giveaway ends 11:59PM GMT on 28th December 2015 to UK & EU residents.

Good luck!

#TeamLuca


a Rafflecopter giveaway

ABOUT THE AUTHOR
Catherine Doyle was born in the West of Ireland in 1990. She holds a BA in Psychology and an MA in English. As a child she was an annoying smarty-pants with an overactive imagination. She feels lucky to have now found a healthy outlet for her tendency to make up stories. Her debut YA novel, VENDETTA, is the first in a trilogy. The novel takes place in modern-day Chicago, where Catherine's mother grew up.