"Waiting on Wednesday" is a weekly meme hosted by
BreakingtheSpine.
This is where you can talk about your most anticipated novels that are soon to be published.
Hello, and welcome to another Waiting on Wednesday post! So I do a monthly post where I feature my most anticipated reads for the upcoming month, which kind of made me think 'Hey, won't I just be repeating myself if I include a book I've already mentioned?' so I thought I would bring you a different title.
THE SECRET FIRE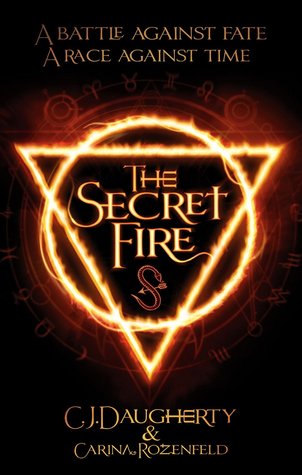 Author:

C.J. Daugherty & Carina Rozenfield
Series:
The Secret Fire #1
Release Date:
3rd September 2015 by Atom
Links:
Goodreads
|
Wordery
|
Hive
Summary:
French teen Sacha Winters can't die. He can throw himself off of a roof, be stabbed, even shot, and he will always survive. Until the day when history and ancient enmities dictate that he must die. Worse still, his death will trigger something awful. Something deadly. And that day is closing in.
Taylor Montclair is a normal English girl, hanging out with her friends and studying for exams, until she starts shorting out the lights with her brain. She's also the only person on Earth who can save Sacha.
There's only one problem: the two have never met. They live hundreds of miles apart and powerful forces will stop at nothing to keep them apart.
They have eight weeks to find each other.
Will they survive long enough to save the world?
NOW THAT IS ONE FREAKING GOOD SUMMARY
. Doesn't it just make you want to go and pre-order it? Eh? (*whispers* Do it.) A duology is bring brought to us by one of my most favourite author's EVER who had written my all-time favourite books - the Night School series.
C.J. DAUGHERTY
. And alongside
Carina Rozenfield
!
HOLY CRAP.
This is going to be totally awesome. Two fantastic authors combine their talents to bring us a book.
I'm so ready. And yet not ready. I can't believe we'll be getting this AND Night School Endgame this year. I can't handle this excitement and amazingness.
BRING ON SEPTEMBER.
What book are you most looking forward to?
Feel free to let me know in the comments, I'd love to know!