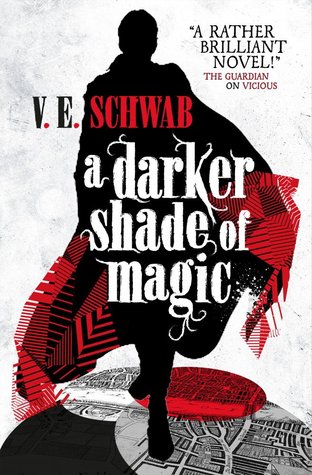 I received a copy of this book from Titan Books for free, in exchange for an honest review. This does not affect the content of my review in any form.
Author:
Victoria 'V.E.' Schwab
Published by:
Titan Books
on 27th February 2015
Genres:
Adult, Fantasy, Magic
Pages:
400
Format:
Paperback
Series:
A Darker Shade of Magic #1
Source:
Publisher
Links:
Goodreads
|
Wordery
|
B&N
Summary:
Kell is one of the last travellers - magicians with a rare ability to travel between parallel universes connected by one magical city. There's grey London, without magic, and ruled by the mad King George III. Red London - where magic is revered, and where Kell was raised alongside the heir to the empire. White London - where people fight to control the remaining magic and magic fights back. And once there was Black London...
Officially Kell is the Red traveller, carrying letters between the monarchs of each London. Unoffically he is a smuggler, a defiant hobby with dangerous consequences. His escape to Grey London leads to a run-in with Delilah, a cutpurse with lofty aspirations, who forces Kell to take her on a proper adventure. But perilous magic is afoot, and an adventure becomes a mission to save all the worlds.
Before I begin, please note
ADSOM
is
Adult Fantasy
, and not
YA
. Schwab cleared this confusion herself. But all in all, it does
feel
like a YA read, but it isn't. Also note that I love books like this!
What's that I hear? Was this seriously the first time I have read a Victoria Schwab novel? I can just see the expressions on all of your faces.
To tell you the truth, I haven't a clue as to why I have never picked up one of her books before, I mean, I have heard nothing but great things about her prominent writing and how she holds the Master skill level at world-building and creativity. I'm actually glad
ADSOM
was the first book I read by Schwab because now I'm completely won over and will now binge read and buy all her books.
I shit you not.
TBR pile? What TBR pile?
I had no idea what to expect when I dived into this fascinating world Schwab has crafted, I just knew I had to keep reading and it took me a while because as soon as I started, I didn't want it to end. It came to a point where I kept forcing myself to read
slower
and re-read previous pages even though my brain was screaming for me to carry on. I didn't want to leave this evocative world and it's marvellous characters. We discover new details and information about the parallel London's and Kell's history bit by bit, as if not to flood you with information that a lot of Fantasy novels seem to do. It certainly wasn't overwhelming.
It was

believable

.

I could imagine this world where four different London's exist, it seemed

so real

that sometimes, even now, I think to myself '

Could I find a way to get to Red London? Antari's exist right?

' but then the harsh reality sets in that I'm just living in a Fantasy. (Who knows, maybe there

are

parallel London's.)
That is what every Fantasy book should
achieve to do
.
And Schwab nailed it. I'm a Fantasy fanatic, heck I live in a Fantasy most of the time.
If you thought the world and plot of this story sounded awesome, you will
love
the characters. Absolutely
sensational
! We have our main man, Kell who is living as the adopted son of the Red London's royal family. Rhy, the true heir to the Red London empire and our fabulous Delilah, a enigmatic yet charming thief living in Grey London. Their conversations are at times, light and witty, entertaining even. I loved their interactions with one another. I especially enjoyed the strange friendship between Delilah and Kell that built up as the story progresses. Kell's relationship with Rhy made my heart swell and shatter. It was brilliant. We are given a range of points-of-view to read from, both the protagonists and antagonists, even minor characters and I truly enjoyed this aspect. It's gives us an insight as to what is happening around the worlds rather than with our main heroes/heroine.
An example? Chapter's told from a royal guard's point-of-view that eased the tension I was left with from the previous chapter, to get an outside perspective on the main characters was enlightening. The various points-of-view also allowed me to see a whole new light to the second
Antari
- a magician like Kell - named Holland. I was truly able to understand his hatred and menacing personality and instead of disliking him, I felt sympathy for him. To get to the point,
all characters were developed to perfection
. They had depth, genuine characteristics that kept them alive and fleshed them out.
The action. It's practically
non-stop action
,
intense and thrilling
that keeps you on your toes. Keeps you drawn in like a moth to a flame. It's addictive. You wouldn't know what to expect until it hits you. Hard. But it left me breathless. I would love to go through this experience again and again. Victoria Schwab is a mastermind. Her creativity is unrivaled and a force to be reckoned with. She breathed life into this Fantasy world and its characters through her words.
I am in awe at how much I loved this book. It is now my #1 Adult Fantasy novel of all time, until the sequel is released, which I'm sure I will love even more. If I love it, that means you should read it.
Huge thanks to Titan Books for giving me this happiness and the chance to read this book. You guys are the best.
Gold Wreath