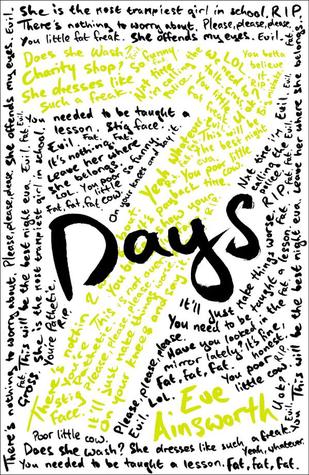 Author:
Eve Ainsworth
Published by:
Scholastic
on 5th February 2015
Genres:
Young Adult, Contemporary
Format:
Paperback
Pages:
249
Source:
Bought
Links:
Goodreads
|
Wordery
|
Foyles
Summary:
Jess's life is difficult enough without Kez picking on her - it's turning school from a safe place into a nightmare.
Kez has plenty of problems too but she finds comfort in knowing she is better off than Jess - or so she thinks.
I've never felt so happy to have found a copy of a book before it's official release date. I just want

everyone

to read this book.

ASAP

.
I'm not exactly sure where to start to be honest with you. This book is a complete masterpiece, it's everything I expected and wanted it to be and more. It was so hard-hitting that I'm still hungover from finishing those last couple of chapters where my heart literally dropped and the dread piled up.
It was that good.
Though it may sound like the typical bullying story between two people, it's not. It's so much more than that. With such a dramatic starting page with a note from one of the character's, it is from that point on that you will be ensnared by Eve's writing. It is breathtaking.
This is a
perfect example
of a book that deals with bullying in the
right way
, covering all aspects and even opens our eyes a little and pay attention to those little things we brush off. We're given two perspectives here - the victim, Jessica and the bully, Kez. But what if the bully is
also a victim?
Seven Days
proudly present the idea of how even the bully can be considered a victim but we don't see this because we judge them by their actions, and bullies tend to have a lot of pent-up rage within them. We can't see their pain or their struggle and we have no idea what they could be going through. And we get to see this through the eyes of Kez and Jessica. It was
terrifyingly realistic
the way Eve had perfectly captured the feelings of anguish and bitterness of Kez as both a bully and a victim. It really gives us an insight as to what goes on inside the bully's mind.
I loved how Jessica was portrayed, dealing with her insecurities and family life. She developed as the story goes on and even though, as a victim she may have seemed weak, she turned out to be the strongest of all. I was very impressed.
I'm struggling to put down the words that could describe just how incredible this book is! It just won't do it any justice.
Everything from the characters to the plot was
on point
. I especially held a favoritism for
Phillip
. Though we don't get a whole lot on him, I loved his role as Jessica's moral support despite him being known as a 'freak' at school. He is valiant and cool headed. He doesn't take crap and deals with it. He doesn't allow labels to define him and stop him from being himself and for that, I adored him. It's a great message to children and teens and victims of bullying to not let labels bring you down.
Filled with overflowing emotions and dramatic turns that would stop your heartbeat, this is a book that
everyone needs to read
. Children and Parents need books like this that hold great importance and I think Eve did a fantastic job. I feel so privileged to have read this book so thank you Eve!
Spread the word.
Get out there and grab a copy of this book.
You should read it.
You
need
to read it.
Rating:
Gold Wreath